More than 1000 satisfied
Customers
Cleaning carpets
Is our business!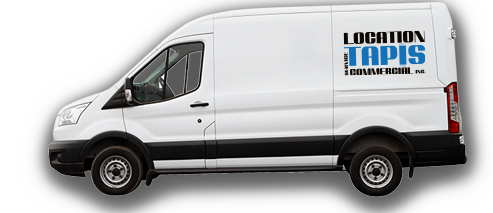 We are your carpet rental experts.
Specialized in the rental and maintenance of commercial carpets since 1989, STLC inc., is a family business focused on customer satisfaction. We offer our clients a courteous and customized service at competitive prices. With the safety of our community at heart, we offer turnkey solutions ranging from rental to carpet maintenance for businesses.
For the past 31 years, many businesses such as restaurants, pharmacies, daycares, convenience stores, office buildings and all types of businesses have trusted us for the rental and recurring maintenance of their commercial carpets.
commerces.
Depuis 31 ans, plusieurs entreprises telles que des restaurants, pharmacies, garderies, dépanneurs, édifices à bureaux et commerces de tout type nous ont fait confiance quant la location et l'entretien récurrent de leur tapis commerciaux.
Founded in 1989, STLC inc was managed by Mr. Serge Lavoie and assisted by his wife Manon Evans. It's in 2001 that Jonathan, the eldest son of the family, joined the business. Since 2013, Jonathan and his childhood friend Mike have joined forces to become owners of "Service de location de tapis commercial". Motivated by a common vision of modernizing the business and continuing to offer impeccable service to their customers, from which the company gets its reputation, they have succeeded in carving out a significant place for themselves in the market.
It is of the utmost importance that all the actors of the company act with great respect, no matter what role they have to play. The leaders have at heart the respect of their employees as well as that of their customers. This is the basis of all relationships, whether it's business or family.
We believe that true and sincere communication is required to ensure a quality service and a healthy business relationship. At SLTC Inc. we do everything in our power to respect the commitments we have made. This is also the reason why SLTC inc. does not hide any fees from its clients, does not add any file opening or closing fees, storage fees, administration fees, etc.
The management of our company advocates for a climate of mutual aid among its employees. Everyone is involved to make sure that our clients are satisfied! Together, we manage to grow our business while maintaining an excellent reputation with our customers.
Our company is a family business now run by the second generation. Our families and those of our employees are at the heart of our operations. They are our motivation as well as our biggest supporters. We consider them as a part of our team!
Each year SLTC inc. makes sure to do its part to help the community by supporting events for organizations that are important to us. We believe that every small gesture is important to improve the world in which we live, because it is the one we will leave as a legacy to our children.