More than 1000 satisfied
Customers
Cleaning carpets
Is our business!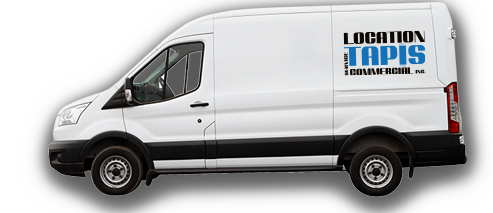 Our carpets: Essential for fall and slip prevention
PREVENTION OF FALLS AND SLIPS IN THE WORKPLACE
Several government organizations are involved in prevention in various workplaces to encourage companies to take simple actions that can have a considerable impact on the safety of their customers and employees.
The ASSTSAS (Association paritaire pour la santé et la sécurité du travail du secteur travail social), and the CNESST (Commission des normes, de l'équité, de la santé et de la sécurité au travail) agree that slips and falls account for a large proportion of accidents that occur in the workplace. For example, in the public service sector, they account for 23% of all injuries reported to CNESST, or 26% of all lost days. Of these falls or slips, 57% are said to be caused by a problem at ground level or coming from an interior floor.
WHEN AND WHY DO SLIPS OCCUR?
"Slips occur when there is too little friction or adhesion between the shoes and the walking surface. "(CCHST, January 2013). Here are the most common causes of slips in the workplace (1) :
1- Wet or greasy surfaces
2- Accidental spills
3- Bad weather
4- Loose or poorly fixed carpet or floor covering
5- Floor covering or other walking surfaces that have different degrees of adhesion
from one place to another.
Falls can also be caused by accidental tripping. This can occur for a lot of reasons, including the following (2):
1- Uneven walking surfaces
2- Poorly closed drawers near the floor
3- Uncovered cables
4- Wrinkled carpets
5- Clutter
6- Inadequate lighting
7- Obstructed view
Here are some tips that these organizations mention that reduce the risk of falls and slips in your establishment (3):
1- Keep the floors clean and dry: wipe spills quickly, wipe your feet as you enter, do not circulate in areas that are being cleaned.
2- Keep the floor coverings in good condition: fix carpets and repair damaged floors.
3- Keep the stairs safe: check the height of the handrail and carefully maintain the steps.
4- Avoid clutter and dragging wires: organize storage areas and use cable holder.
5- Use adequate lighting and keep a clear view.
6- Ensure good floor drainage: clean floor grates.
7- Maintain the outdoor area: remove rocks, leaves, branches from walking areas and use visual cues to identify obstacles.
8- In the winter, beware of snow and ice: carefully maintain parking lots and entrances of the building(s).
9- Properly use footboards, stools or step ladders, when needed.
10- Control temperature contrasts that create condensation and frost on the ground.
In short, according to ASSTSAS, CCHST and CNESST, the condition of floors, carpets and entrances to commercial buildings is a priority to ensure the safety of employees and customers who go around.
[1] CCHST, Prévention contre les chutes – Comment éviter de glisser, de trébucher et de tomber. January 2013.
[2] CCHST, Prévention contre les chutes – Comment éviter de glisser, de trébucher et de tomber. January 2013.
[3] ASSTSAS, Les chutes et les glissades au travail, ça tombe toujours mal. 2014.
SLTC FOR SAFETY!
Service de location tapis commercial inc. offers you entrance carpets that do not wrinkle, that will protect your floors and absorb a large amount of water to reduce the risk of falls and slips in your establishment. Call us now for a free estimate!