More than 1000 satisfied
Customers
Cleaning carpets
Is our business!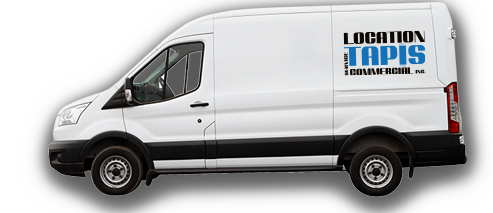 The installation and maintenance of your carpets
INSTALLATION AND MAINTENANCE OF ENTRANCE CARPETS
Here are some tips and advice to keep your carpets beautiful and clean. This will allow you to extend their life span.
INSTALLATION AND STORAGE
First of all, if you have stored a rolled carpet, be sure to unroll it and leave it flat for a few days before proceeding with the installation. If your carpet is new, you may see some lint in the first few weeks. Don't worry, these will disappear after it's been vacuumed a few times. When you need to store your carpet at the end of the season, be sure to store it rolled or flat, but never upright. Carpets can warp and break. It is also very important to store them when they are completely dry to prevent the growth of mold.
CLEANING AND MAINTENANCE
It is important to take good care of your carpets so that they remain effective and safe. It is recommended to inspect them regularly in order to quickly detect any breakage or tear. If necessary, it is then possible to repair it with a "crazy glue" type glue. A broken carpet can be a risk of falling for people who use it. A carpet that is poorly maintained and filled with dirt, calcium, stains or liquid will also lose its effectiveness. Here are a few tips to help you:
1- Vacuum everyday.
2- To clean the entire carpet, use a carpet extractor (a specialized tool for
washing carpets) as well as a water-based shampoo.
3- To remove traces of calcium, use a specially designed calcium removing shampoo. An ordinary water-based shampoo may not be effective.
4- Dry the carpet as often as possible (by extracting or hanging it).
5- To remove stains, here are a few tips:
1. Chewing gum: use an ice cube and then scrape the piece gum with a metal spoon.
2. Mud: let dry then brush gently.
3. Coffee: rub with a cloth damped with warm water with a water-based shampoo, then rinse.
4. Red wine: rub with a mixture of 90% alcohol (3/4) and water (1/4).
5. Glue: Use very hot water or a mixture of alcohol (3/4) and water (1/4).
Happy cleaning to all and don't forget, if you are not equipped or if you don't have much time to properly maintain your entrance carpets, you can always use our rental service and we will take care of it all for you!